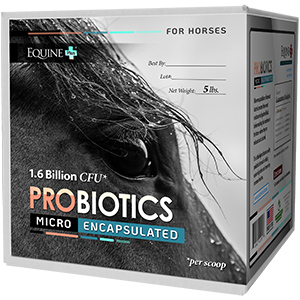 1 lbs. (box) - $34.25 Add to Cart
5 lbs. (box) - $142.25 Add to Cart
25 lbs. (box) - $548.50 Add to Cart
The superior and most concentrated micro-encapsulated probiotics formulation for horses - 1.6 Billion CFU per scoop - to aid equine digestion and improve immune function.
---
Intestinal Health Supplement for Horses
Your horse needs probiotics, but don't buy Brewers Yeast, get actual probiotics. For over 40 years, micro-encapsulated probiotics have been the best option. Recent studies have also conclusively shown that brewers yeast causes far too many negative health effects, and yet it is still widely given to horses.
Micro-encapsulating 1.6 billion CFU per scoop of our probiotics (which are dormant gut bacteria) ensures the correct amount of resistance to digestive fluids so the probiotics can reach the intestines.
Our probiotics are micro-encapsulated and do not contain fillers or additives such as: sugars, sweeteners, flavors, oils, GMOs, corn, sunflower, soy, powdered tree bark, or roots from plants. Ours contains just a small amount of stabilized rice bran as a carrier for the probiotics. One scoop, 8 grams, contains the same amount of live probiotics as 20-30 grams of competing products.
Pelleted and extruded feeds have been heated and pressurized, which kills a substantial amount of the probiotics in the feed formula. For this reason, quantities of probiotics represented on the label(s) of extruded and pelleted feeds cannot be trusted (see What's in Horse Feed) as pelletization and extrusion kill many of the probiotics before the feed even gets bagged.
In addition, micro-encapsulating probiotics also provides resistance to imperfect storage conditions before use, as the encapsulation shields the organisms and helps them stay dormant - until they come into contact with the correct equine digestive environment.
Not only are our probiotics significantly more concentrated, they are also less expensive, which maximizes their bang for the buck.
We've recently revamped the look and packaging of this time-tested pure probiotics formula which our Biochemist has always found to be the most effective in horses. These are the probiotics that we use in most of our other supplements to increase their effectiveness, and now you can buy them separately.
Ingredients:
Lactobacillus Acidophilus . . . . . . . 2.5 x 107 CFU/gm
Lactobacillus Casei . . . . . . . . . . . . 2.5 x 107 CFU/gm
Bifidobacterium Thermophilum . . . 2.5 x 107 CFU/gm
Enteroccocus Faecium . . . . . . . . . 2.5 x 107 CFU/gm

Other Ingredients: Our probiotics are suspended in a stabilized rice Bran base.
Suggested Retail:
1 lbs. (box) - $34.25 Add to Cart
5 lbs. (box) - $142.25 Add to Cart
25 lbs. (box) - $548.50 Add to Cart
---
above price is subject to change
---